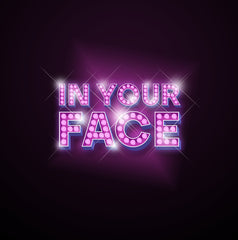 ONE® Condoms was a proud presenter of Joanne Kam and Tony Eusoff's musical variety show, In Your Face which ran from 3-5 December 2015. With tracks ranging from cabaret to 80's Pop, Bollywood and EDM, this show brought together the glamour of Hollywood and Broadway with an amazing display of talents in glamorous costumes, fun mash-ups and heart-pounding production numbers. Inspired by Saturday Night Live with fall-off-your-seat spoofs and hilarious comedy skits poking fun at popular social issues from Sensitive Men, to what happens The Morning After - this show covered everything you ever wanted in a show, all in one, all in your face.
In addition, ticket sales proceeds were donated NGOs that supports key affected populations in Malaysia on HIV/AIDS, gender identity and sexual health issues.
Check some of the pictures out!
From your friends at ONE® 😊 
The cast of the musical looking all great!
Scene from musical – absolutely colourful with some great vocals.

Attendees were giving free condoms too!
Some lucky attendees got to meet and greet with the cast.