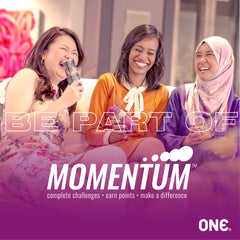 11 October 2023 – Today marks a momentous day for ONE® and all our customers as we announce some exciting changes to our Momentum™ program. Our commitment to innovation and pushing creative boundaries remains as strong as ever. That is why we are taking our loyalty program to a whole new level!
Moving Forward with Excitement
While the Momentum™ program is evolving, rest assured, it is not the end! We are simply switching to new and exciting ways to reward your loyalty.
If you have accumulated points, worry not – simply send the email address associated with your Momentum™ account to info@onecondoms.my and we will exchange your rewards for something equal or even better!
We want to express our heartfelt gratitude to each and every one of you who has been part of our movement to inspire and spark conversations about sexual health. Your support has been instrumental in our journey, and we are excited to continue this adventure with you.
Stay in the Loop
We are genuinely excited about the future of our loyalty program and can't wait to share all the fun and exciting updates with you. Stay tuned for more information, as we will be keeping you informed every step of the way. Here's to many more exciting moments ahead! 😊