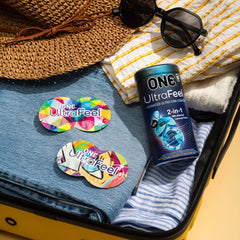 Today, ONE® announced the release of the ultimate game-changer in pleasure – the UltraFeel® 2-in-1 Condom. Picture this - an ultra-thin condom and an extra 2mL of ONE® Oasis™ lubricant, thoughtfully packed in one wrapper for pure pleasure and convenience, the first of its kind in Malaysia!
The groundbreaking new launch is not only set to revolutionize the intimate experience, but also to educate people about the importance of using additional lubricant.
Gone are the days of having to carry a bottle of lube everywhere you go! ONE® UltraFeel® is all you need at your fingertips. Whether you are embarking on a romantic weekend getaway or a spontaneous party, the UltraFeel® 2-in-1 Condom is your perfect companion for ultimate pleasure and absolute peace of mind.
Known for being a brand with innovative pleasure products, the UltraFeel® 2-in-1 Condom is further backed by cutting-edge technologies that redefine the conventional condom:
SheerSkin®

- Made with ultra-soft SheerSkin® latex, the condom is even thinner than a human hair. Imagine a condom that moves in sync with your body!

TotalGlide®

- The TotalGlide® technology ensures condoms are fully lubricated from base to tip to ensure a smooth, pleasurable journey from start to finish.

MicroRoll®

- The super-thin bead at the base of the condom ensures a snug fit while providing extra comfort.
Get ready to make your intimate moments even more enjoyable! The UltraFeel® 2-in-1 Condom, available in a pack of 10, features a variety of unique and different wrapper designs to spark conversations about sexual health. This thrilling new launch is here to elevate your bedroom game in new and unexpected ways!

The excitement doesn't stop there! In conjunction with Sexual Health Month, ONE® unveils a compelling CSR campaign in collaboration with Fire Fighter Industry, ANBO, Blood and At-Twenty KL. This joint effort is geared towards promoting sexual health awareness and giving back to the community.

In efforts to break the stigma against sexual health, with every purchase of our partners' selected products from 1st to 30th September 2023, a designated portion will be dedicated to the CSR fund of Karex Berhad. This fund will actively support a range of initiatives aimed at raising awareness, facilitating education, and the beneficiaries of respective donations include marginalized communities affected and infected by HIV/AIDS.

Head down to your nearest Watsons store across Malaysia or shop Watsons online and discover the new shape of pleasure today.
About ONE® Condoms
Karex Berhad, the world's largest condoms manufacturer, is the brand owner of ONE® Condoms. ONE® is a socially responsible business committed to raising sexual health awareness. As a leader in premium condoms and lubricants, ONE® brings a fresh perspective to sexual health through a fusion of advanced product design, manufacturing technology and customer participation.
We are fanatic about developing new technologies to upgrade its condoms, such as the proprietary Sensatex® Softer Latex, MicroRoll® Comfort Base, and TotalGlide® Full Lubrication technologies. ONE® Condoms are vegan-friendly, non-GMO, and made from natural rubber latex. The trademark round wrappers features hundreds of designs to spark conversations. ONE® products are available for purchase at onecondoms.my, and retailers such as Watsons, Guardian, AEON Wellness, Caring Pharmacy, myNEWS and Bila-Bila Mart.
Follow ONE® Condoms on the socials below:
IG: https://www.instagram.com/onecondoms.my/    
FB: https://www.facebook.com/ONECondomsMY 
Website: https://www.onecondoms.my/ 

About Watsons
Watsons Pharmacy is one of the leading pharmacy chains in the country, with over 500 stores nationwide. It offers a wide range of healthcare products and services, including prescription medications, over-the-counter drugs, and health supplements. Watsons Pharmacy is committed to providing high-quality products and services to its customers and is constantly innovating to meet their changing needs.