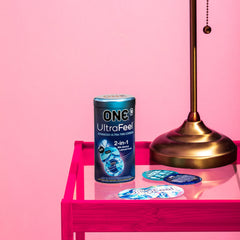 Alright, let's get real for a second – SEX IS AMAZING. And you know what else is a blast? The slip and slides! Here's to giving a big high-five to the genius who figured out the secret ingredient that can take things from great to "AH-mazing !". Yup, you guessed it – lubricant aka lube.
In this article, we are spilling the beans on four reasons why you should incorporate lube into your sex life!
1. Lube Can be Used in Any Situation
Lube isn't picky – it is here for everyone, regardless of your gender, age, race, ethnicity, or sexual orientation. The lube makes vaginal and anal penetration comfortable and smooth, while also adding a touch of fun to foreplay and solo play. Simply use it in whichever way feels good for you; better sex is just a squeeze away! *wink*
2. Say Goodbye to Vaginal Dryness
Sometimes things just don't flow as smoothly as we'd like them to, and that is completely okay! Vaginal dryness can be caused by various factors such as stress, menopause, irregular menstrual cycle, hormonal changes, and underlying medical conditions. It can cause painful intercourse and affect overall comfort during sex.
Here's where lube comes to the rescue. It can be used as a supplement to natural vaginal fluid, providing the extra touch of moisture to reduce the friction that can otherwise cause pain or vaginal cuts and tears during intimate moments. Additionally, lube offers a slippery surface that makes penetration smoother, thereby enhancing overall pleasure.
3. Makes Sex Safer
Lube doesn't just make things feel amazing. It is also your partner in crime for a safer, more secure experience. How, you ask? Well, let's break it down. Friction can be a mood-killer. Not only can it be uncomfortable, but it can also cause the condom to tear or break. Lube steps in as the mediator, giving you an extra layer of protection while ensuring there's no uncomfortable rubbing. While the enhanced effectiveness of condoms, it also means a stronger barrier against unintended pregnancies and sexually transmitted infections (STIs).

4. Introduces Delightful New Feelings
Using lube means you are spending more time sliding and gliding! When you pair extra lube with a condom, it even adds a touch of naturalness to the whole experience. All that is left for you to do is fully embrace and enjoy the moment!
We have received a lot of feedback from you guys, underscoring the desire for a more convenient and pleasurable experience. WE. HEAR. YOU. After years of research and development, we are proud to introduce our most epic creation ever. Say hello to ONE® UltraFeel® 2-in-1 condom – an ultra-thin condom and 2ml of water-based lube in one convenient wrapper. It is the answer to those awkward moments when you wish you had brought lube but didn't want the hassle. With the revolutionary 2-in-1 packaging, you can enjoy the safety and pleasure of both a condom and lube, conveniently stashed away in your bag.
The UltraFeel® 2-in-1 condom is engineered with three advanced technologies including:
TotalGlide® Technology – Unlike most condoms that only get lubricated after rolling up, ONE® UltraFeel® condom is fully lubricated from base to tip prior to being rolled.
MicroRoll® Technology - These condoms have a thin bead, ensuring a more comfortable fit.
SheerSkin® latex - The ultra-thin condom is made from incredibly soft premium latex, so you can feel every intimate moment to the max!
Ready to take your intimacy to the next level with ONE® UltraFeel® 2-in-1 condom? Get it from
Watsons stores
across Malaysia or
shop online
 and have it in your hands before your next hot date.