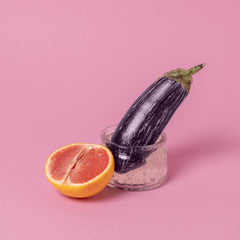 Let's admit it! When it comes to sex, we always love the rule – the wetter, the better! And that's where the dynamic duo comes into play – condoms and lubricant (lube for short)! They are like the coolest tag team in the bedroom, condom provides protection against sexually transmitted infections (STIs) and unintended pregnancies while lube enhances pleasure and reduces discomfort.
But why should I use lube?
While our body secretes natural lubrication, it might not be sufficient and can take time to get going. In such a situation, lube comes to your rescue! This is even necessary if you are engaging in anal sex.
Lubes can come in water-based, silicone-based, oil-based, or hybrid formulas, each offering distinct advantages for different needs.
Water-based lubes
Water-based lubes are the safest bet to start with, offering a natural feeling that is easy on the skin, won't stain the sheets, and can be washed off easily with water. They are especially perfect for those who enjoy a more authentic experience during their intimate escapades.
Silicone-based lubes
Looking for something that you won't have to keep reapplying during a mid-session? Silicone-based lubes offer long-lasting slipperiness that is popular for wet-and-wild shower sex and anal sex! However, it is essential to keep silicone lubes away from silicone sex toys, 
as they can break down and degrade the materials, leading to a loss of their smooth texture and potentially creating cracks or tears in the surface.
Hybrid lubes
Hybrid lubes combine the best of both worlds: water and silicone, making them slipperier, longer lasting, and easy to clean up!
Disclaimer:
While lubricants can enhance your intimate experiences, it is vital to choose the right type of lube for your needs. Oil-based lubes, that are known for providing longer-lasting moisturization and are often used for sensual massages as part of foreplay, are not suitable for use with latex condoms and sex toys. This is because oil-based lubes can weaken the latex material of condoms, leading to an increased risk of condom breakage and the transmission of sexually transmitted infections (STIs).
So, what's the right way to use lube with condoms?
Now that you have chosen which lube you wanna go for, let's buckle up for some sexy-time advice! When using lube with condoms, follow these simple steps to rock the boat:
Begin with Proper Condom Placement

: Place the condom on the head of the erect penis with the rolled side out. Ensure you are wearing it the right way.  

Pinch the Tip

: Pinch the receptacle tip of the condom between your thumb and finger. This prevents air from becoming trapped at the tip of the condom and leaves an empty space to collect semen.

Unroll the Condom

: Using your other hand, unroll the condom down the base of the penis.

Apply Lube to the Outside

: After the condom is securely in place, apply a generous amount of lube over the outside of the entire condom. Make sure it is thoroughly lubricated.

Additional Lubrication

: If desired, you can also apply lube directly to the vulva, vagina, or anus.
Pro Tip💡 You can also add a few drops of lube inside the tip of the condom before you roll it on. This can heighten sensation during sex for some individuals! However, be cautious not to apply too much lube as it may cause the condom to slip off.
Now, let's talk about the combination of condom and lube in one wrapper. Imagine never having to worry about carrying separate lube bottles or interrupting your intimate moments to find your lube.
With ONE® UltraFeel® 2-in-1 condom, you won't miss a beat! The clever design combines an ultra-thin condom with 2mL of ONE® Oasis™ water-based lubricant inside. It is like having your own secret weapon for smooth, seamless pleasure right at your fingertips. So, whether you are embarking on a spontaneous adventure or planning a hot date, ONE® UltraFeel® condom ensures you are always ready for a wild ride!
Summing up everything!
Condoms and lube are undoubtedly the bestest of friends when it comes to safe and satisfying sexual experiences. They keep you safe, comfortable, and groovin' like never before! By using the right type of lube and following proper application techniques, you can take pleasure and protection to new heights.
And for those seeking convenience and a delightful surprise for their loved ones, check out ONE® UltraFeel® at Watsons stores across Malaysia, both in-store and online. Experience a new shape of pleasure today!