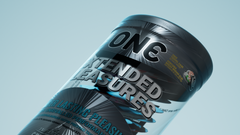 We are excited to be the first in Malaysia to bring this new innovative product that has been designed to provide an extended pleasure experience for both partners, with an added benefit of delay technology to prolong sexual intimacy.
ONE® Extended Pleasures™ is the way to go for a good and long time. It is a game-changer in the world of condoms, and we are confident that it will be a hit as this unique formulation allows couples to enjoy an extended pleasure experience, making intimate moments more enjoyable and satisfying. 
It comes with softer latex condoms that feature a lubricant with 8.5% benzocaine, a mild male genital desensitizer, to extend performance time, help prevent premature ejaculation (P.E.) and boosts self-esteem in the bedroom. It is safe, non-prescriptive and aims to improve premature ejaculation (P.E.) with repeated use.
All our condoms are made from premium quality, softer latex and are triple-tested to ensure maximum safety and reliability. Each piece of condom is electronically tested to ensure no defects or leaks, giving you the peace of mind you need to enjoy their intimate moments.
ONE® Extended Pleasures™ is available exclusively at Watsons Malaysia. You can now purchase at Watsons Online Store or at any Watsons store nationwide.
Shop here for 3's: https://www.watsons.com.my/extended-pleasures-condom-3-s/p/BP_51194
Shop here for 12's: https://www.watsons.com.my/extended-pleasures-condom-12-s/p/BP_51180
About ONE® Condoms
ONE® is a socially responsible business committed to raising sexual health awareness. As a leader in premium condoms and lubricants, ONE® brings a fresh perspective to sexual health through a fusion of advanced product design, manufacturing technology and customer participation.
We are fanatic about developing new technologies to upgrade its condoms, such as the proprietary Sensatex® Softer Latex, MicroRoll® Comfort Base, and TotalGlide® Full Lubrication technologies. ONE® Condoms are vegan-friendly, non-GMO, and made from natural rubber latex. The trademark round wrappers feature hundreds of designs to spark conversations. ONE® products are available for purchase at onecondoms.my, and retailers such as Watsons, Guardian, Aeon Wellness, Caring Pharmacy, myNEWS and Bila-Bila Mart.
About Watsons
Watsons Pharmacy is one of the leading pharmacy chains in the country, with over 500 stores nationwide. It offers a wide range of healthcare products and services, including prescription medications, over-the-counter drugs, and health supplements. Watsons Pharmacy is committed to providing high-quality products and services to its customers and is constantly innovating to meet their changing needs.