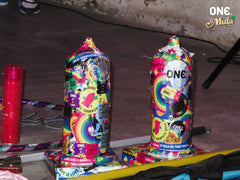 On the 2nd of July 2022, REX KL was transformed into a celebration of Pride, lights, and love for the Ballroom culture. The ONE® Ball event, organised by Kiki House of Neverland and empowered by ONE® Condoms was a testament to the power of community and art.
With judges and guests from Thailand, Hong Kong, Taiwan and Philippines, the defunct cinema space was brought to life by audience who dressed up in their best outfits for each category to showcase their confidence in style.
Categories involved were American Runway VS European Runway OTA, Hands Performance VS Arms Control OTA, Baby Vogue OTA, Vogue with Props OTA, Open Style with Vogue beat & Shot OTA, Butch Queen Realness, Drag Queen Lip Sync etc. You can read more about them here. It was a true celebration of the beauty of a community who have found themselves through art.
All in all, ONE® Ball was an extravagant show of community who gathered together in a safe space to share the love and appreciation of self-expression, dance and music.
Kiki House of Neverland did an incredible job in bringing people together to celebrate the Ballroom culture with PRIDE, and we can't wait to see what they have in store for us next! 
Photos credit: Mulazine