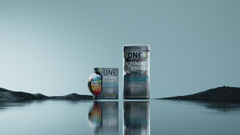 Here at ONE®, we spend most of our day thinking about sex and we're always cookin' up new ideas to bring more pleasure into the world. When it comes to sexual intimacy, we found out that couples often seek ways to prolong their pleasure and deepen their connection.
We've put in years of research and effort to come up with our very own delay condoms - ONE® Extended Pleasures, as an innovative solution to address these desires.
In this article, we will explore the science behind delay condoms and explain how the unique benzocaine formulation in ONE® Extended Pleasures condoms work to prolong sexual activity and enhance pleasure for both partners.
What is a Delay Condom?
Delay condoms are specifically designed to prolong sexual activity by slightly desensitizing the male genitalia. The key ingredient in delay condoms is benzocaine – a mild topical anaesthetic that reduces sensitivity and is usually present in the form of a lubricant on the inner surface of the condom.
aaaaaand you might be wondering, how do they work?
When a delay condom is being worn, the benzocaine lubricant comes into contact with the sensitive nerves on the penis, numbing them slightly, reducing sensitivity and helping to delay orgasm. This reduced sensitivity helps to delay ejaculation and extend sexual activity, allowing for longer-lasting experience.
The benzocaine formulation in ONE® Extended Pleasures condoms is carefully calibrated to achieve an optimal balance between desensitization and maintaining pleasurable sensations. The concentration of benzocaine is around 8.5%, which is considered safe and effective for prolonging sexual pleasure without completely numbing the sensations.
However, it is important to note that the duration of numbness experienced can vary from person to person depending on several factors, including the sensitivity of the individual wearing it, and other aspects such as the thinness of the condom and the fit. Generally, the numbing effect will bring you on a wild ride of extended pleasure experience while still allowing for pleasurable stimulation and enjoyment.
Using ONE® Extended Pleasures Condoms
To benefit from the delay effect of ONE® Extended Pleasures condoms, it is essential to follow the instructions for use carefully.
Begin by ensuring the condom is properly stored and within its expiration date.
Before engaging in sexual activity, the man should put on the condom. Make sure to leave space at the tip for semen collection.
The benzocaine lubricant on the inside of the condom will gradually take effect, helping to prolong sexual pleasure.
It's important to remember that individual experiences may vary, and finding the right balance of desensitization may require some experimentation. Open communication between partners is crucial to ensure that both individuals are comfortable and enjoying the experience.
Conclusion
Delay condoms, such as ONE® Extended Pleasures, provide couples with a way to enhance sexual intimacy and prolong their pleasure. By understanding the science behind delay condoms and the benzocaine formulation in ONE® Extended Pleasures condoms, couples can explore new possibilities for extended pleasure and deeper connections.
Good news! You can now easily purchase ONE® Extended Pleasures conveniently at Watsons Pharmacy across Malaysia, either in-store or online for an enhanced sexual experience. Available in 3-piece pack & 12-piece pack.